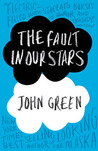 The Fault in Our Stars by John Green
My rating: 5 of 5 stars
I'm going to keep this short and sweet because there is absolutely nothing I could say that would possibly be adequate enough to do this book any justice. Obviously, all the amazing reviews piqued my interest and made me curious enough to bump it up to the top of my TBR pile, especially since there is now a movie to go along with it which is also getting amazing reviews.
So I jumped somewhat blindly into this story, not really knowing what it was about, just knowing it was going to make me ugly cry in the worst way, at least that was the general consensus among readers. And sure enough there was an embarrassing amount of waterworks on my part. But what do you expect from a book so beautifully and eloquently written that it touches the deepest parts of your heart and causes you to ache in a way formerly reserved for real (not fictional) people. All I can say is wow.
The writing was utterly flawless, the characters had such depth & emotion, and the overall story was beautifully constructed. This is definitely a book that will stay with me forever and I seriously can't praise it enough. Do yourself a favor and read it, you won't be sorry.