Hunter Dennison has been an overachiever in all aspects of his life. He knows what he wants and goes after it, and he intends to follow suit in his love life with the young and beautiful Molly. His patience is at its last resolve as he waits for her to come of age, but finally the time has arrived, and he prepares to tell Molly how he feels.
What he doesn't know is that someone else has set their own selfish agenda into motion, wreaking havoc on Hunter's intentions and his confidence in Molly's character.
Believing the vicious lies, Hunter veers off his planned path. He finds solace and comfort in another's arms, never realizing that he leaves in his wake a devastated Molly.
However, fate cannot be fooled.
Now, twenty years later, they both have settled into their own lives in Clearwater Falls. Hunter intends to rectify the past by letting Molly know that she is the one he wants now, just as he had wanted then.
Can passion all these years in the making overcome the weight of regret that they both carry? Or will the price of their previous mistakes leave an insurmountable divide in their chance at forever?
WARNING: Recommended for adult readers (18+) only. Mature themes, strong language, and sexual content.
Where do I even begin?
This is probably the first book that I have ever connected with in such a profound and meaningful way.
Maybe it's because I can relate to Molly being a single mother, and the way she tries to balance work responsibilities with family responsibilities, and somehow squeeze in time for herself.
Or maybe it's because I can relate to Hunter and the struggles he faced trying to get help for Leah, and then helping her cope on a daily basis with how she thinks and perceives life and people differently.
Just everything about this book, from beginning to end, resonated with me. I feel like the authors words spoke directly to me, every single last one.
For me this was more than just a love story. It was a positive message, reinforcing the fact that yes, you too can have a happily ever after despite life's obstacles.
I'm just in awe of W. Ferraro's ability to create such realistic stories with characters that could easily represent the average person. That's one of the things I enjoy most about her books. She creates worlds one can only dream of being a part of, with characters that feel more like friends or family than works of fiction. Each of her books contains a very important message and Taking the Fall, my favorite book of hers to date, is no exception.
Molly and Hunter have always kept their feelings of admiration and fondness a secret. Hunter, being older than Molly, chose to settle for friendship until he could, with good conscience, make a move. Molly, because she never could have imagined that Hunter shared the same thoughts, kept her feelings locked away.
Misunderstandings and awful rumors prevented them from exploring their potential…until 20 years later. Molly, now divorced with 2 children still finds herself wondering what went wrong and thinking about what could have been. Hunter, now with a child of his own but never married, still harbors some anger and resentment for behavior and acts he believes Molly committed.
The tension around them is thick enough to be cut with a knife, until they finally hash it out and embrace all the emotions they've been suppressing. Achieving a Happily Ever After isn't as easy as that though, they have to work for it and overcome their own personal obstacles and well as the obstacles they share together.
Without a doubt I would recommend Taking the Fall and I can only hope you take away the same sentiments from it that I did.
View all my reviews
*** DENNISON SERIES ***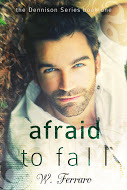 DENNISON SERIES, BOOK 1
** ON SALE FOR 99 PENNIES!!! **
I live in New England with my young family. I'm a stay at home mom to two very active children. For all of you who are familiar with the stress of this job, I decided to complete an item on my bucket list and write a book. When I'm not writing, you will find me cooking, reading, shopping or being silly with the kids. In my opinion, one of life's greatest pleasure is being able to get lost in a book.